Done during my internship at Nudes, under the oversight of firm principle Nuru Karim, in collaboration with Ahmad Saleem Z and Raj Charanya, was this competition winning project called "Out of the Box", designed with the idea of "Hedonistic Sustainability". Here's the official announcement.

I was responsible for the modeling, the final drawings, the final pitch and theoretical underpinnings of the project.

The project "eco-machine" analyses the role of housing as an integral component of the ecosystem where nature and building components are locked together in a complex synergised relation of energy and information exchange.

In addition to several sustainable design technologies, it also advocates the role of "urban farming" revitalizing urban landscapes and addresses the need of food shortage caused by climate change. This fosters a multi-generational approach to soliciting a profound "value-based" relationship between humans and nature through the act of "seeding", "growth" and "harvesting".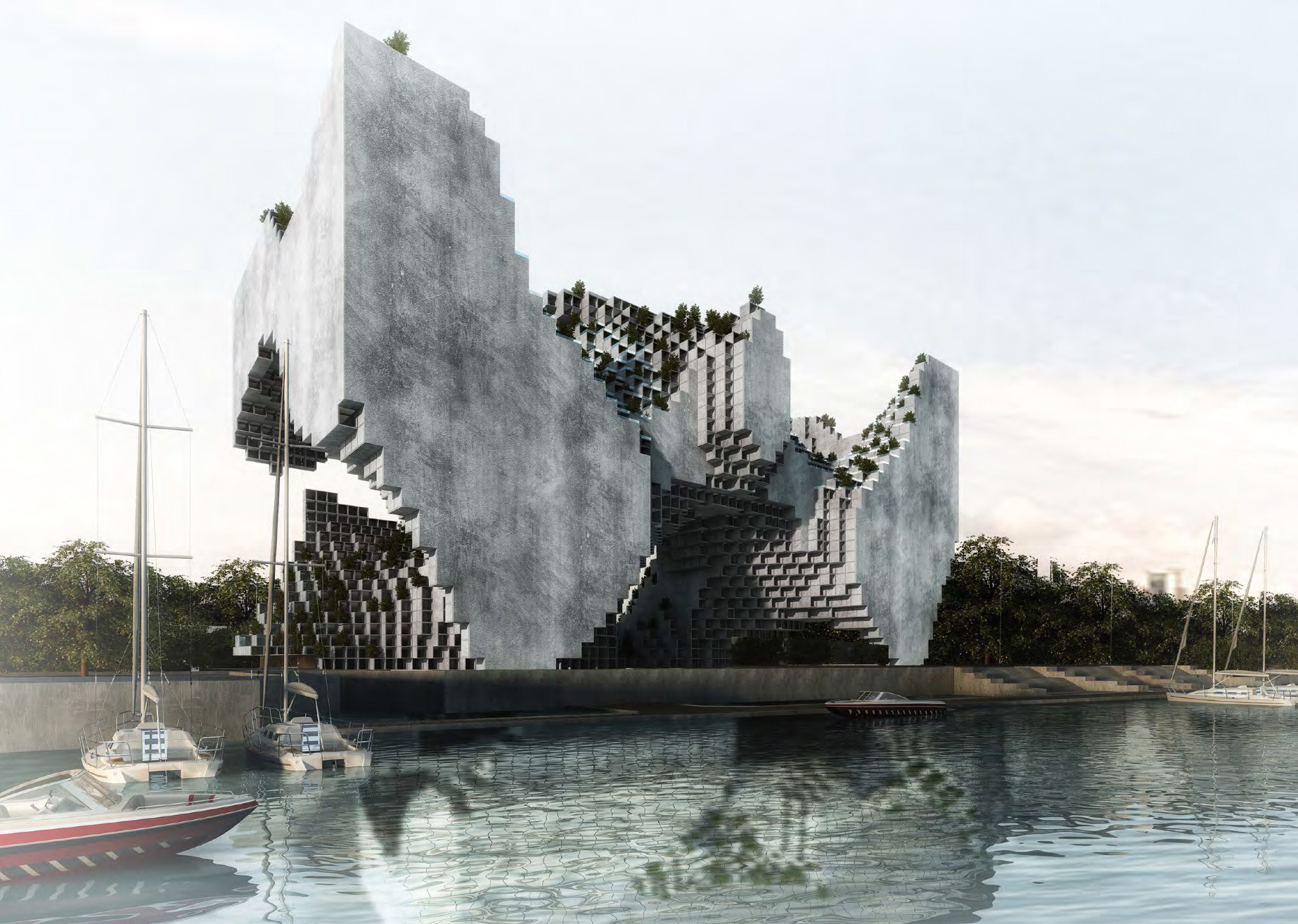 FINAL SUBMISSION
Developing economies are being faced with severe housing shortfall challenges resulting in the provision of housing strategic blueprints that include the delivery of "volume" with very little "value". Scarcity of land fueled by inward migration into cities and metropolises are a concern as well. Global nations too need to move away from carbon intensive to carbon neutral economies.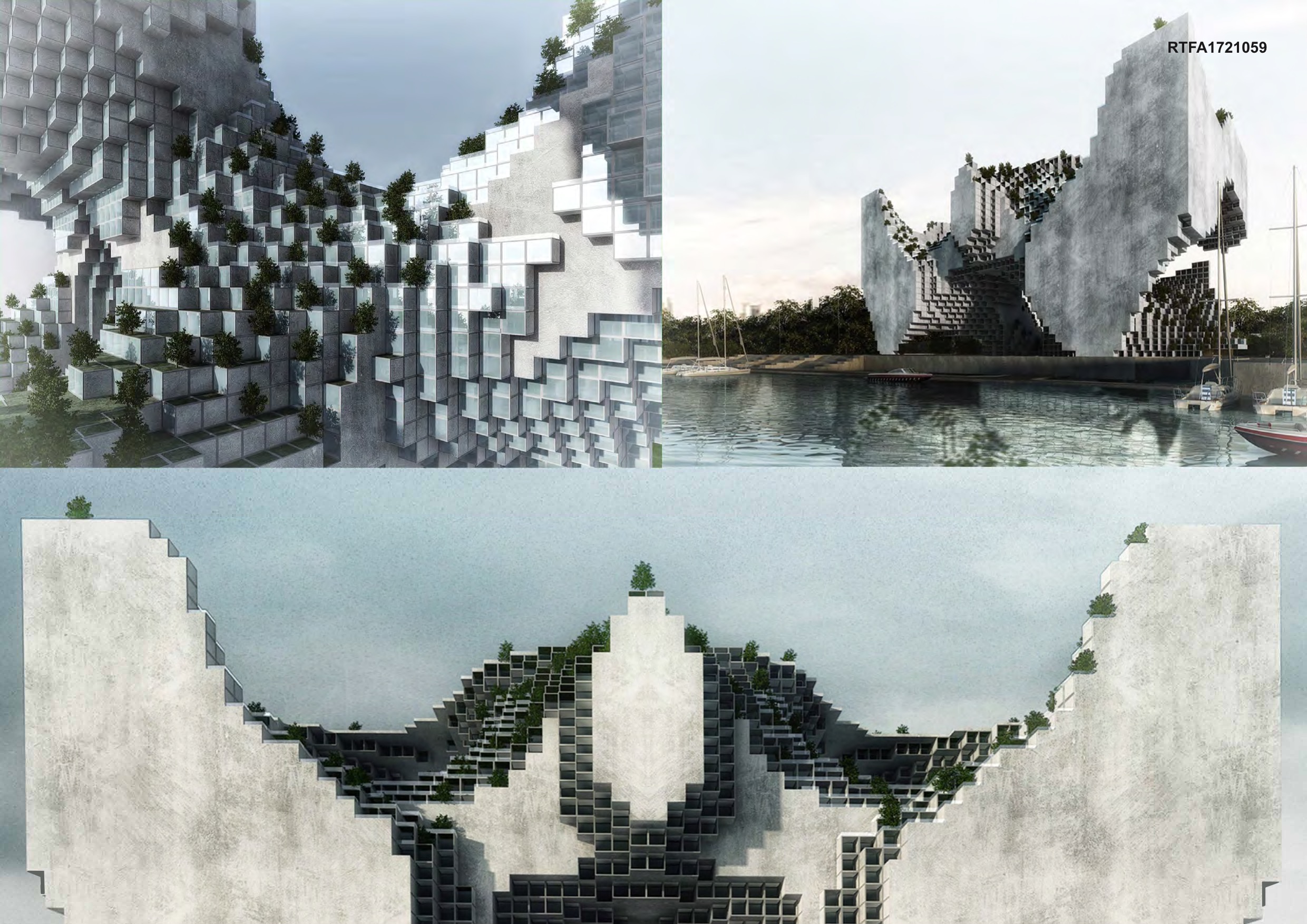 FINAL SUBMISSION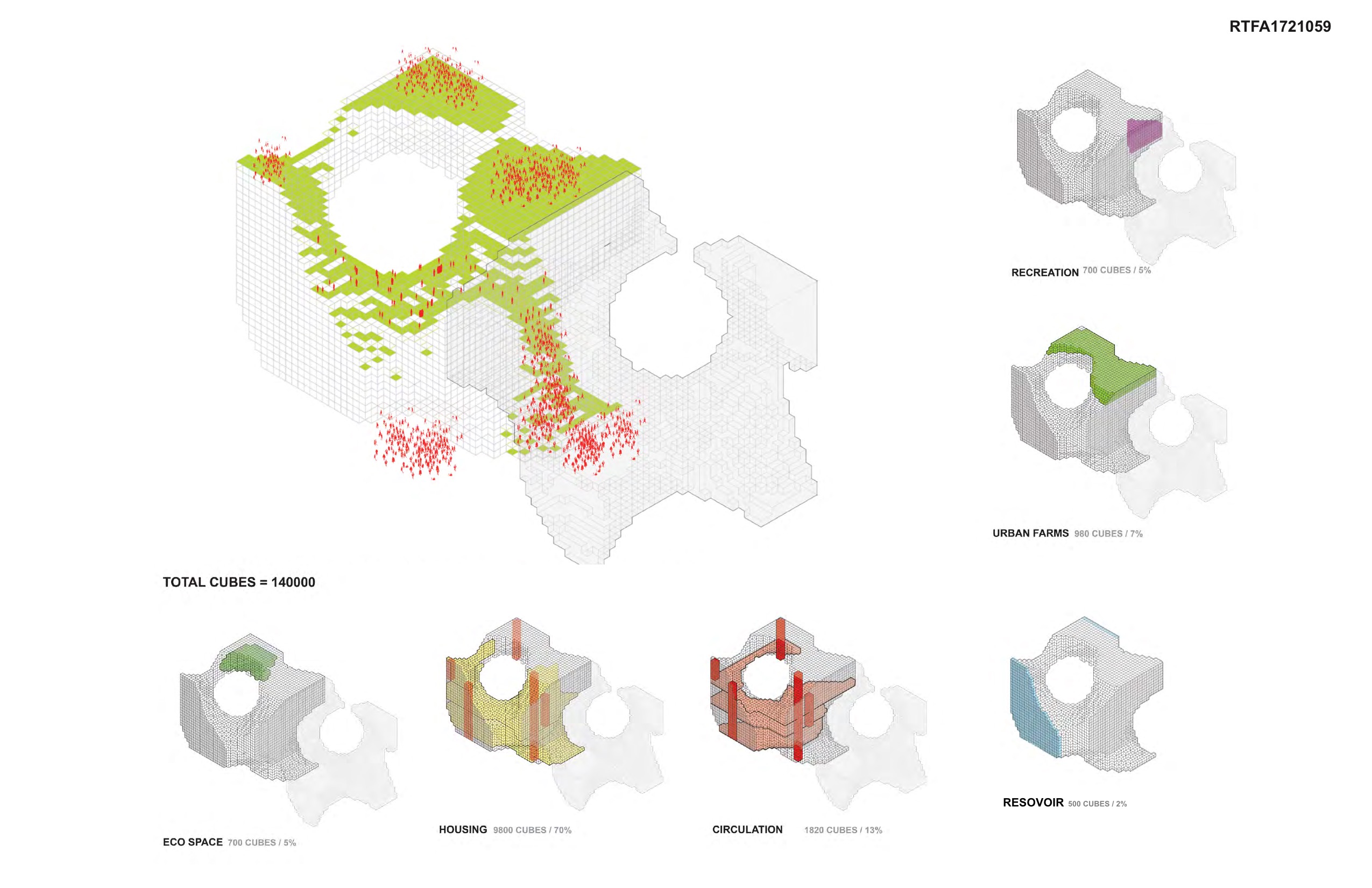 FINAL SUBMISSION
The key component that actuates the eco-machine are the numerous "herb-terraces" generated through the act of "erosion". Erosion is conceptualized not as an act of absence but as a prosthetic void that reinforces the ecological balance of the design construct. These "herb-terraces" allow for individual units to have their own "micro-farms"at their doorstep, re-defining the "farm to kitchen" concept. These spaces also enable and encourage the act of urban farming as a community driven activity.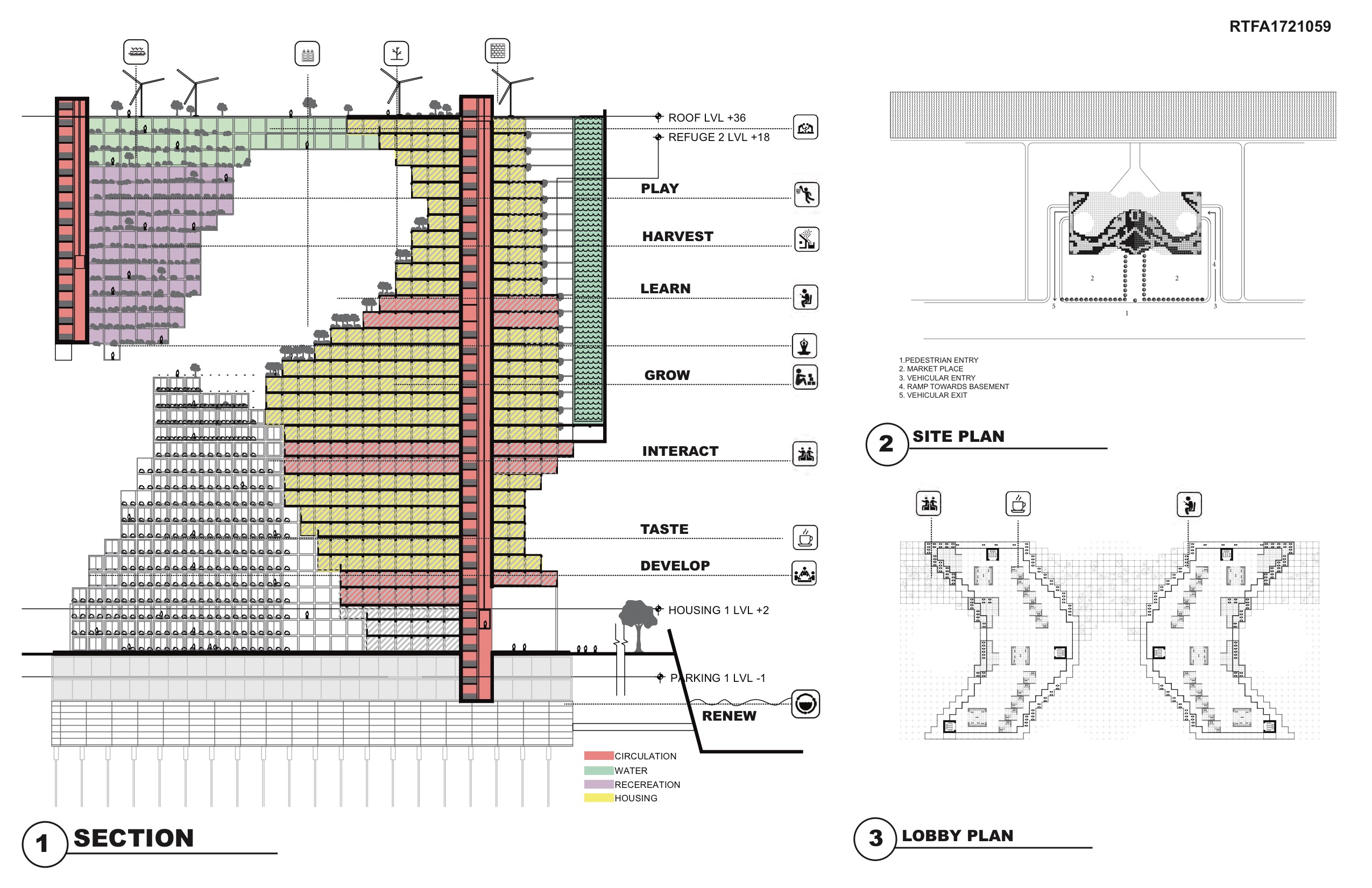 FINAL SUBMISSION
Housing units are planned along the perimeter of the building receiving ample light and ventilation. This enriches an internal community between the housing units, giving life to various recreational activities such as yoga, children's play, herb-gardening, community kitchen, community dinning and recreational spaces. Large monoliths serve as vertical water reservoirs. Roof rain water is channeled into these water reservoir monoliths which provide ample water supply to supplement urban farming activities throughout the year. This housing program is also further supplemented by green elements such as greenhouse, green-walls, light-wells and a green roof.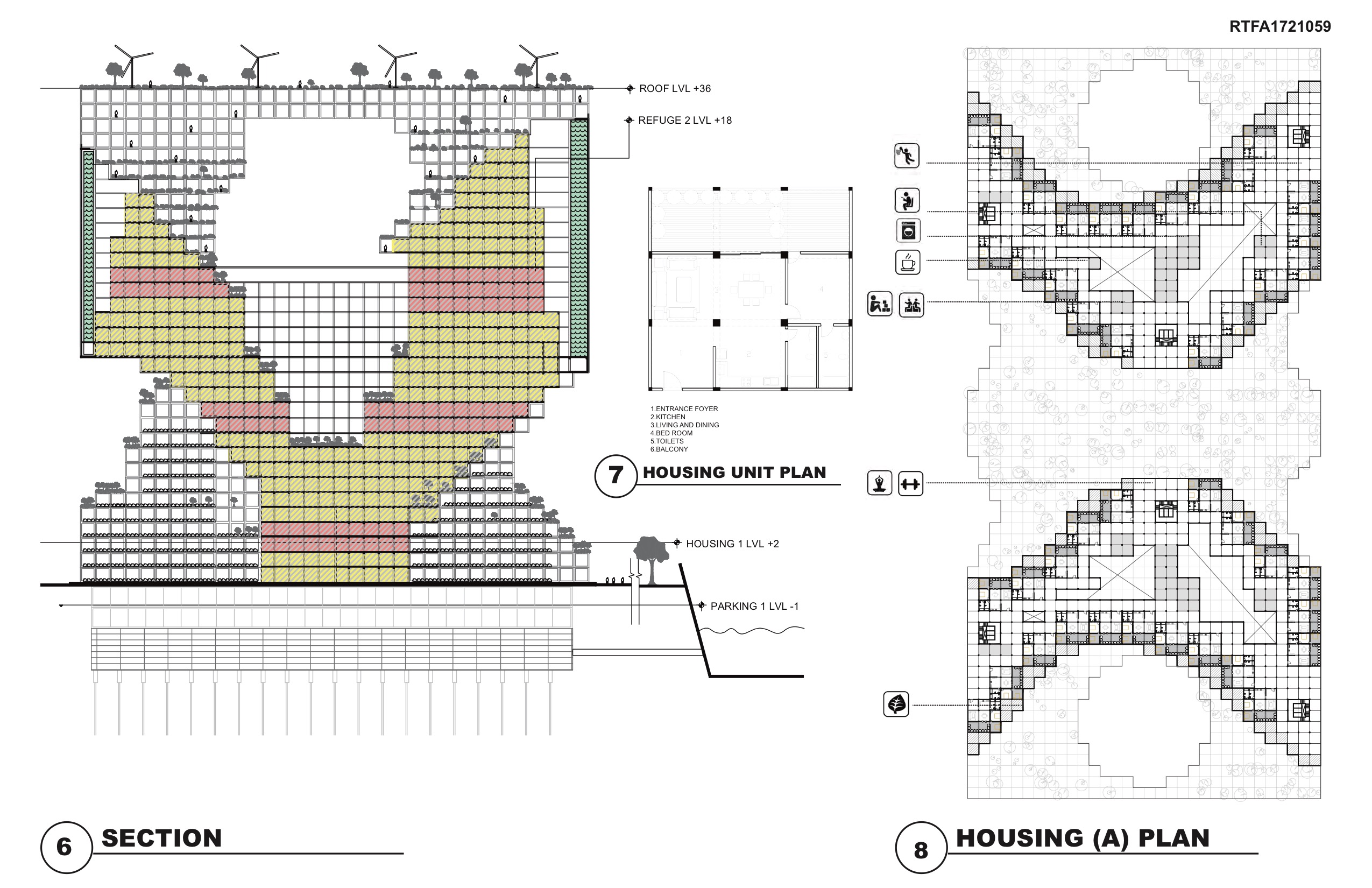 FINAL SUBMISSION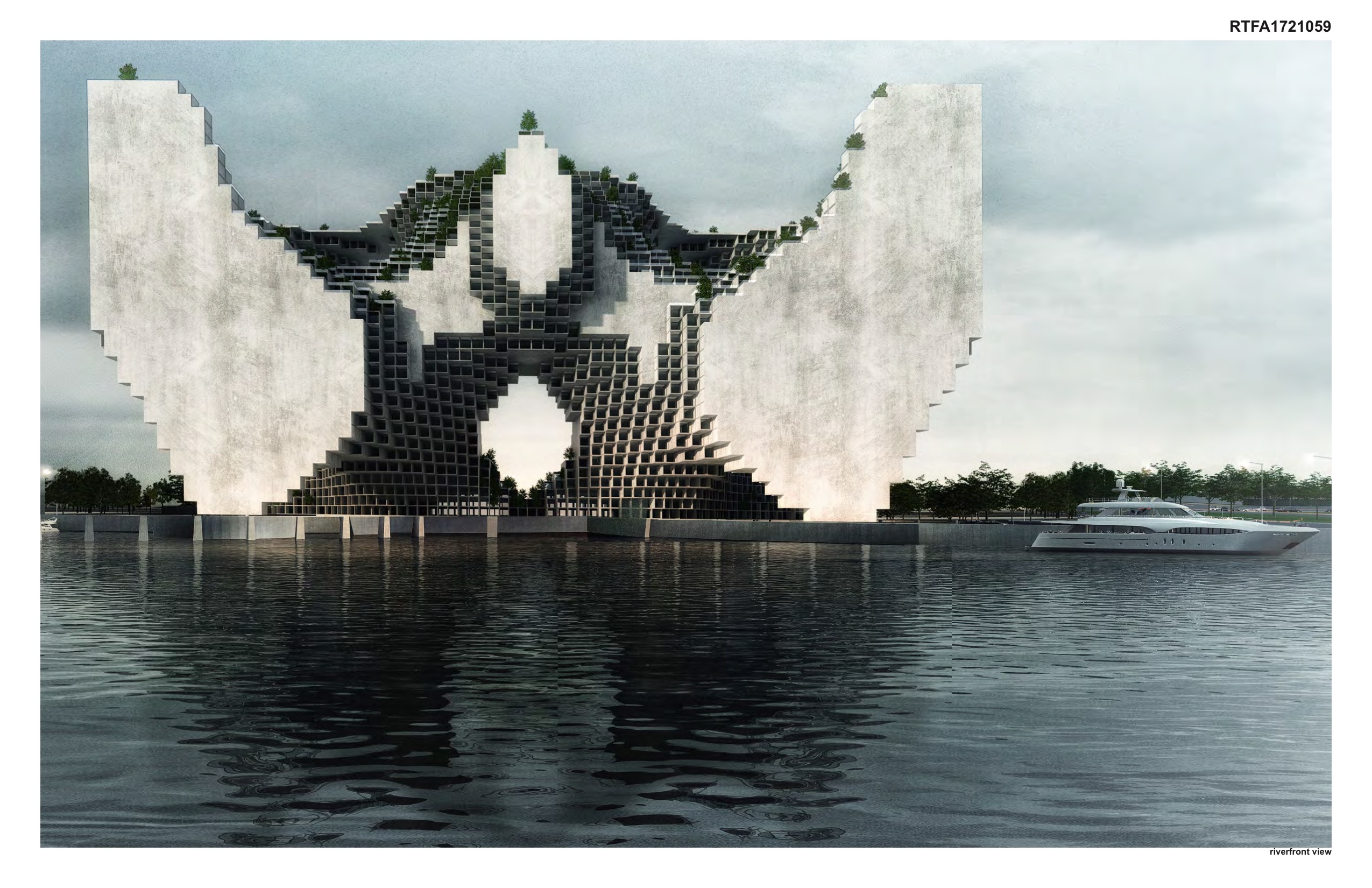 FINAL SUBMISSION